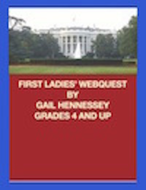 First Ladies' Webquest!
Did you know that Florence Harding was the first woman to be able to VOTE for her husband in a presidential election? Learn about the contributions of some of our first ladies with this fun and informative webquest. For grades 4 and up.

Also have a webquest on Presidents...
Read more