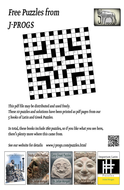 Free Puzzles for Latin and Greek
The ten puzzles included here have been taken from our five books of brainteasers, which are Easy Latin Puzzles, Tricky Latin Puzzles, Easy Greek Puzzles, Tricky Greek Puzzles and Imperium Latin Puzzles. In total, these books include 260 puzzles, so if you like what you see here, there's plenty more where they came from.

The pdf file here includes solutions and should keep teachers and students occupied for an hour or two. It may be distributed and used freely.



Read more