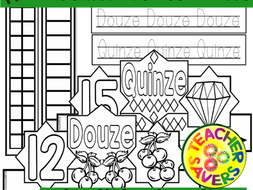 FRENCH Number Crowns Interactive
This is a set of FRENCH number crowns from 0-20 with a unique twist. I have included multi-back options to add some variety. Backs can be 10-frames, 20-frames or trace number spelling options. The fronts have many options as well for coloring, glitter glue, sequins, seeds, whatever sensory you want to add. I personally like to cut long rectangular strips from heavy bristol board to provide firm support backing and the students can cut, embellish, interact, glue their crown details to the support backing. This will accommodate the many head shapes and sizes.

This is a black and white set and is lettersized paper with landscape orientation. There are 21 pages in this high quality pdf file.
Read more