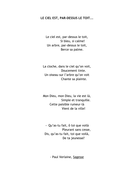 FRENCH POEM - VERLAINE - LE CIEL EST...
Paul Verlaine's 'Le Ciel Est, Par-Dessus Le Toit…' uses simple language to set a beautiful scene then deliver an emotional punch at the end. The text has been set out in large font with lots of space around each short verse, for pupil annotation and illustration. After studying this poem, pupils can write their own poem that a) describes a setting then b) expresses a mood or state of mind. This formula works in any combination - e.g. lovely park + murderous rage, rainy day + joyful expectation.
Read more
Report a problem
Creative Commons "Sharealike"