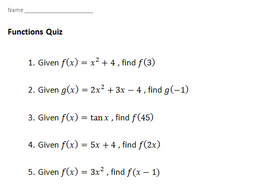 TES PICKS
GCSE 9-1 Functions Quiz/Answers
GCSE 9-1 Functions Quiz and answers. Suitable for a high ability Y10/Y11
Read more
About this resource
Info
Created: May 23, 2018
Other resources by this author
GCSE 9-1 Functions Quiz and answers. Suitable for a high ability Y10/Y11
wrarshad91
Suitable for a higher tier. Knowledge of indices is required as it can serve as a bit of revision for indices too. Up to and including composite fu...
wrarshad91
Suitable for a Year 12/13 Maths/Further Maths group. I an using it weekly with my current Year 12 Maths group and hoping to see an improvement by t...
wrarshad91
Popular paid resources
Easy powerpoint to introduce Cosine and Sine Rule. Notes sheet organisation pupils found particulary useful. Easy ready to go lesson!
steffi2018
Try before you buy! Get a free sample chapter here: https://www.tes.com/teaching-resource/maths-a-level-year-2-mechanics-applications-of-forces-119...
Omega
17 slide SQA Higher Maths Multi-topic Problem-Solving Powerpoint with Answers. Topics include: Functions: finding the equations of functions includ...
biggles1230
Updated resources
This worksheet helps students to review their understanding of functions. This sheet covers 'single' functions only – composite functions are cover...
Maths4Everyone
These are (were) my C1 summary notes. The questions are carefully selected and have fully-worked solutions. Perfect for re-sit students to self-stu...
Maths4Everyone
A worksheet (with detailed solutions) that allow students to practise multiplying surds expressed in the form a ± b√c. Included are TWO BRAND NEW S...
Maths4Everyone