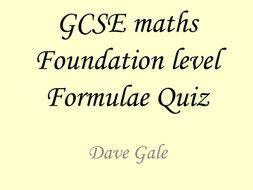 GCSE Maths Formulae to memorise Quiz
A simple quiz with all the formulae that students are expected to remember at Foundation level GCSE.
Covers all 16 formulae with one formula per slide and they automatically advance after 10 seconds.
3 different versions with the same questions in a different order.

I intend to use these multiple times so that they start to stick!
About this resource
Info
Created: Feb 17, 2017
Updated: Feb 22, 2018