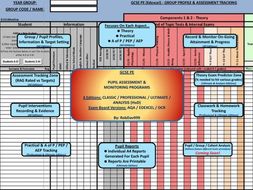 GCSE PE (AQA/Edexcel/OCR) - Pupil Assessment & Monitoring Program - Free Trials
4 EDITIONS NOW AVAILABLE: CLASSIC / PROFESSIONAL / ULTIMATE / ANALYSIS (HoD)
FREE TRIAL VERSIONS BELOW TO DOWNLOAD & TRY FOR: AQA / EDEXCEL / OCR
Please read the attached PDF files ('Info & Example Book' & 'Comparison of Editions') for details, to see exemplar pages of the program in use & and to compare the features of each edition
Please note, the 'ANALYSIS (HoD)' trial edition is not included here but is currently included for FREE with each ULTIMATE edition!
GCSE PE Teacher or HoD Companion Throughout The Entire Course
The ULTIMATE edition now creates individual pupil REPORTS (up to 40)!
Scaling factors / calculations / grade boundaries built in to each version!
Features:
Create Group & Pupil Profiles (an overview)
Assessment Tracking Zone, including…
ALL Theory, Practical & Analysis of Performance / PEP / AEP assessments calculated automatically by the program
Automated calculation of separate year assessments & overall assessments (also RAG rated vs targets)
Theory Exam Predictor Zone (automated %'s needed to hit target & various grades)
Progress Monitoring (to cover all years of the course, including Yr 9 if applicable)
Pupil Interventions (record, date & evidence throughout the entire course)
Practical & Analysis of Performance / PEP / AEP Tracking (keep records & assessments of activities covered throughout the entire course)
Classwork & Homework Tracking (record classwork, homeworks & marking / results throughout the entire course)
NEW: Bespoke & personal reports for each individual pupil are generated by the program (up to 40)!
I will update all scaling factors / grade boundaries in August, after the first run of the new course summer exams
Please Note…
It's really important that you enable 'macros' if Excel asks you to do so!
I'm afraid the full editions are not free… there is a one-off fee, but it is considerably less than alternative programs on-line (they charge one year or multi-year subscriptions which are far more expensive)
In addition, every updated version of a program will be FREE to customers who have purchased the previous full version!
Thank you for looking at the various editions of my GCSE PE - Pupil Assessment & Monitoring Program. If you are interested in purchasing one for you / your school, they are available now in my shop!
RobDav.
Read more