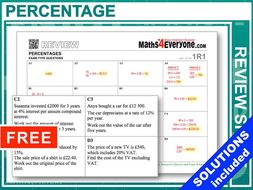 TES PICKS
GCSE Revision (Percentages)
GCSE revision questions (with solutions) which cover all aspects of GCSE and IGCSE percentages.
Click --> https://tes.com/.../Revision to see the list of (about 50) GCSE revision sheets on other topics.
--
These GCSE revision questions are great to use in class or as a homework. They are also excellent for one-to-one tuition and for interventions.