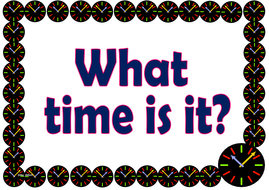 Grade 2 - What Time Is It (The 12-Hour System)
A set of 12-hour system time flashcards to help your pupils to be aware of the time of the day, the difference between morning, afternoon and evening. You may start the lesson by teaching the hour and minute hands followed by asking what activities they do at certain times of the day. Great to use for beginners, speaker of English as second or other language and children with special needs. Laminate for longer use.
About this resource
Info
Created: Jul 28, 2015
Updated: Aug 19, 2015
Categories & Grades
Other resources by this author
Rounding and estimating are important parts of mathematics and a very handy tool for everyday life. Rounding can make sums easy. By rounding off, y...
jinkydabon
A simple clear explanation on how identify the length, height and breadth of a cuboid and how to find its volume. As a primary teacher, I usually c...
jinkydabon
Worksheet to calculate the missing length, breadth or height of cuboids followed by word problems. This is a good introduction or practise for your...
jinkydabon
Popular paid resources
2018 VERSION NOW AVAILABLE HERE! (copy and paste link) https://www.tes.com/teaching-resource/new-2018-ks2-sats-revision-ultimate-3-in-1-maths-organ...
ambowers2
Recommended by TES. There are 4 sets of questions (Number, Algebra, Shape, Data) which are mainly A and A* (with some lower grade questions from to...
kmbheck
Having reviewed the examiners reports for functionals skills (key quotes included) for the last 12 months and noticing common misconceptions in cla...
jonesk5
Updated resources
This not only lists all the topics on the IGCSE maths syllabus but also gives an example of what they all are so you don't get the continual questi...
alutwyche
This converts the classic game Cluedo into three maths lessons. The aim for the children is to find out the location, weapon and the murderer by so...
harris_jane123