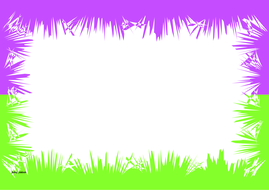 Grass Themed Printer Paper
Printer paper for you students' portfolios.
Read more
Other resources by this author
Rounding and estimating are important parts of mathematics and a very handy tool for everyday life. Rounding can make sums easy. By rounding off, y...
jinkydabon
A simple clear explanation on how identify the length, height and breadth of a cuboid and how to find its volume. As a primary teacher, I usually c...
jinkydabon
Worksheet to calculate the missing length, breadth or height of cuboids followed by word problems. This is a good introduction or practise for your...
jinkydabon
Popular paid resources
Sock Monkey Soft Toy - Full lesson by lesson scheme of work & lesson powerpoint key stage 3 project The project transforms recycled socks into ...
merk90
Powerpoint showing several photos of Roman shields that I made leading into an activity where children design their own Roman shield based on certa...
dave_orritt
A worksheet designed for KS4 to encourage higher questioning. Great for higher ability students. Feeds in to any subject and most lesson plans. Use...
Piper-maru
Updated resources
Paula Modersohn-Becker quotes, on her painting art & artist-life in Worpswede + Paris - free art-resource for students, pupils and art teachers...
Matrozenhof
Piet Mondrian quotes, on color in pure abstract painting art and De Stijl - free art-resource for pupils, students, art teachers . Mondrian founded...
Matrozenhof
Claude Monet quotes, on his landscape-painting art & artistic life in French Impressionism - free art-resource for students, pupils and art tea...
Matrozenhof