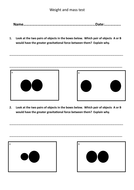 Gravity: Weight and mass home work
Investigating if the pupils understand the difference between weight and mass and can predict what type of objects will have a bigger gravity force between them this assessment also includes a line graph drawing task, the axes have already been started on the graph paper.
Other resources by this author
Covering the key points for the Common entrance, KS 3 and middle school circuits work with circuit symbols, truth tables current in series and para...
Hoppersphysics
With sections covering all the forces in the title which start off easily and get slowly harder this is a short answer test paper which also includ...
Hoppersphysics
Internet research questions to go with Key stage 3, common entrance and middle school work on Light. This covers the electromagnetic spectrum, lens...
Hoppersphysics
Popular paid resources
**This resource has been recommended by the TES Resource Team** *UPDATED AUGUST 2017* Added a crossword puzzle with answers. This resource pack wil...
sciencecorner
For the Scottish Higher and NAT 5, academic year 2018-2019. Completely adaptable if you teach the topics in a different order - but thought I would...
distvxf
This presentation covers OCR Gateway Physics 9-1 P2.2.5 Definition of weight Balanced and unbalanced forces Terminal velocity Free body diagrams Pl...
srshaw89
Updated resources
Revision resource that can be used as a whole lesson(s) activity/homeworks/revision tasks Specifically for Edexcel PHYSICS GCSE and Edexcel DOUBLE ...
Violetvision
**8 slide fill-in presentation / sheets on the 3 topics that make up Physics Paper (for the AQA Combined Science, so no lenses, transformers, etc a...
jeroenvanos
Check out my Forces bundle to save: www.tes.com/teaching-resource/forces-and-their-interactions-11498289 Designed for the new specification AQA GCS...
mr_science