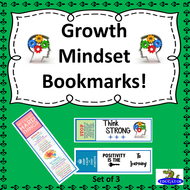 Growth Mindset Bookmarks - The Power of Positive Thinking
Students should have a growth mindset and think positive! This set of 3 bookmarks will be inspirational. You get four color bookmarks to a 8 1/2 x 11 page. Motivational quotes on the power of positive thinking. The first bookmark is Think Strong... stop being afraid of what could go wrong and think of what could go right. The second bookmark says We Can Do Hard Things...and gives a list of positive thinking alternatives. The last bookmark says Keep Calm and Stay Positive...Positivity is the key to Learning. Print out on card stock and laminate for durability. Enjoy!
- HappyEdugator

©2016 HappyEdugator.
Read more
About this resource
Info
Created: Nov 15, 2016
Updated: Feb 22, 2018