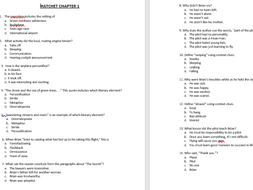 Hatchet Difficult Chapter Multiple Choice questions
HATCHET--19 chapters of DIFFICULT multiple choice questions that includes figurative language, comprehension, vocabulary, and critical thinking. This is a "state-style" test which means the text may be used as the questions are answered. It works well as a read at home unit. Chapter one has more questions than the other chapters; because it is the introduction. These are NOT just comprehension questions over each chapter. I do have several products that are like that, or I can develop one.
Thanks so much for your purchase. Please follow me, and share with your friends and family. Let me know if you have a specific story or novel need; I will be glad to develop any type questions for any type reading section. Email me at zelayaa.az@gmail.com for your reading needs.
Read more