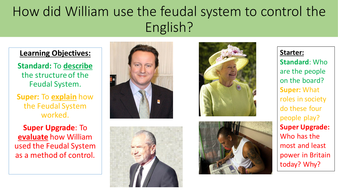 How did William use the feudal system to control the English?
All images sourced from Google images 'labelled for reuse' and licensed under Public Domain. Text attract attributed to 'Heinemann History Scheme 'Life in Medieval Times.'

This lesson is an introduction to the feudal system. It allows students to consider 'hierarchy' through a comparison of medieval and modern power structures in the UK. Students will also question the morailty of our current ruling system and will be able to draw parallels between today's poor and medieval peasants. It also encourages students to think about 'divine right of kings' and dictatorship and to question how far that still exists today. It is part of a unit which looks at how William kept control of England for 21 years. Students will consider what the feudal system was and why it was so significant to William in allowing him to control the English. Students are required to use their numeracy skills to turn data into Pi charts. It also has a strong literacy focus as students analyse text in order to allow them to discover more about how the feudal system worked.
Read more
About this resource
Info
Created: Oct 20, 2015
Updated: Feb 22, 2018
This resource is designed for US teachers. View UK version .