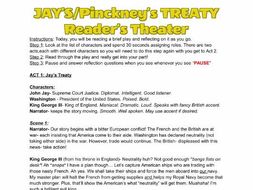 Jay's and Pinckney's Treaty Readers Theatre
This ORIGINAL and engaging readers theater will bring this typically boring material to life. Students become excited and enthusiastic about reading when they are presented with the opportunity to participate in Readers Theater. The ideal way to use this play is to put students in groups of 4 so they all have a part to read. Print copies for each students or read off of your website/google drive.

A Student Reflections sheet keeps students engaged and accountable for what they are learning.
Read more