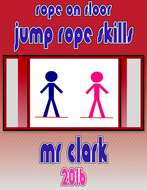 Jump Rope Skills Rope on Floor
This product has different Jump Roping Skills that can be performed while the jump rope is on the floor. They are printable/projectable slides that are visually appealing and easy to understand.

Use as a warm-up, stations, class challenges or even as separate progressions! Great way to get those Jump Ropes turning and those hearts racing.
Read more