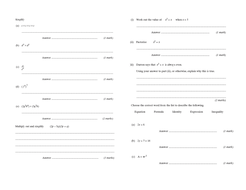 KS4 Maths: Algebra Exam Practice Worksheet
Maths worksheet. great assessment or test of algebra knowledge. Very thorough worksheet covering all aspects of algebra, useful for stage KS3/KS4, grade E and grade F and Int 1. If they can answer all these correctly they have a very good foundation in Algebra. Collecting like terms, simplifying expressions, expanding brackets, factorising, solving linear equations.
Read more
Report a problem
Creative Commons "Sharealike"