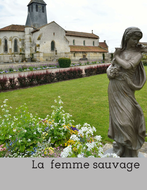 La femme sauvage - reading for intermediate/advanced French
A wild woman shows up in a small French village, speaking no language and wearing only rags. Who is she? Where did she come from? The true story of the "Wild Girl of Champagne" adapted for intermediate to advanced French students.

Includes 2 page reading with vocabulary, plus a 2-page comprehension worksheet in both French and English. Additional resources and answer key included.
Read more