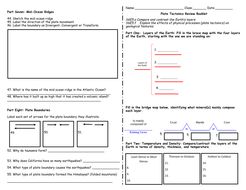 Layers of the Earth and Plate Tectonics Study Guide!
Great little resource, one-page booklet that covers the following topics:
~Layers of the Earth (and compare them in terms of temperature, thickness, density, and composition)
~Tectonic Plates
~ Plate Boundaries
~Continental Drift Theory

Made of thinking maps, with word bank included. Answer key attached as well.
Read more
About this resource
Info
Created: Feb 17, 2017
Updated: Feb 22, 2018