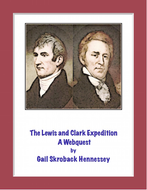 Lewis and Clark(Webquest/Extension Activities)
Go on the Expedition to explore the Louisiana Purchase with Meriwether Lewis and William Clark and the rest of the group. The informative webquestions will give students lots of information about the famous expedition.Several extension activites/resources are also included. Skills include:reading for information and using research/computer skills.

PLEASE NOTE: 3/8/16. I check my web quests regularly as links change from time to time. I see that one of the links(question 8) isn't working so I had to change the link. Please download the most recent.
Read more