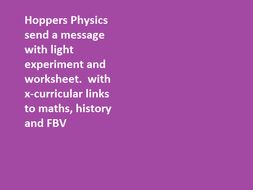 Light: Sending messages by light.
Useful for a lesson on different ways we send messages by light, in how we see things or a more general light topic this work sheet provides cross curricular links to maths and history and possibly fundamental British values as well as talking about broadband which means you can spring off into many different routes. The main challenge is for the pupils to independently make a code to send a message in pairs or groups as fast as possible. Often results in some great photos for sticking in workbooks, twitter feeds etc. Make the pupils do the work and get maximum science exposure! Useful for KS 3 and Common entrance GCSE, middle school and older depending on how you work the connections to other topics and subjects.
About this resource
Info
Created: Feb 22, 2017
Other resources by this author
With sections covering all the forces in the title which start off easily and get slowly harder this is a short answer test paper which also includ...
Hoppersphysics
Covering the key points for the Common entrance, KS 3 and middle school circuits work with circuit symbols, truth tables current in series and para...
Hoppersphysics
Internet research questions to go with Key stage 3, common entrance and middle school work on Light. This covers the electromagnetic spectrum, lens...
Hoppersphysics
Popular paid resources
This is a complete lesson exploring the Slave Trade triangle. It includes a map task, have and need task, card sort on the reasons slavery was just...
leighbee23
Goes from the dinosaurs through key periods of history to the present day. Use MS Word to adapt it. I have added the Stone, Bronze, Iron and Middle...
MrCMaths
This lesson as a dragons den style group task, pupils worked in groups of 5 and each analysed one of the five inventions during the Industrial revo...
leighbee23
Updated resources
This active learning lesson has been created to help students access the role played by Oliver Cromwell by analysing a series of primary and second...
Roy_Huggins
Help for each question and the exam overall enjoy :)
annalise_park
Most of this comes from BBC Bitesize, so if you need to look over anyhing go there. This has most of the information that you will need along with ...
annalise_park