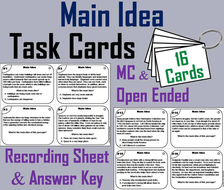 Main Idea Task Cards
These task cards are a great way for students to have fun while practice their skills with identifying the main idea of a passage.

This activity has students reading 16 short and interesting informational text passages to each other and then asked to identify the main idea out of two possible choices. Some passages allow students to come up with their own judgement as to what the main idea is. The whole set is also available as non-multiple choice as well. A recording sheet with an answer key is provided.
Read more