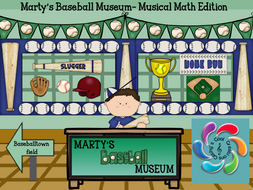 Marty's Baseball Museum- Musical Math Edition-an Interactive Game to practice note values
Marty's Baseball Museum is an interactive game to help students practice note values and and provide teachers an opportunity to assess students in the process. Students also learn about America's Greatest Past time, Baseball in the process. Students travel through three scenes in the museum and click on different objects/ people to get note values facts to practice. When they get it correct, they learn an interesting fact about baseball. Also, Marty has lost the MVP trophies throughout the museum that give students a second turn!. This game can be projected for a whole group to play or played on a tablet for individual or small group work. It is a great way to integrate technology into the classroom. This set is dedicated to my dad, Marty and his love of baseball and is being released on the Red Sox' Opening Day 2017!
If you and your students enjoy this product there are more in my store like it and many more to come!
Read more
Get this resource as part of a bundle and save up to 65%