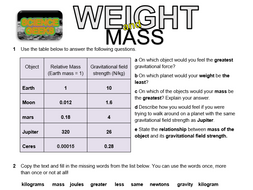 MASS, WEIGHT AND GRAVITY
How does your weight change as you travel in space? What happens to your mass? What affects the gravitational field strength of a planet! Travel the cosmos with this video and comprehensive double sided worksheet. It comes with answers to all questions and Extension tasks to stretch more able students. Here is link to a TedEd quiz I made on this topic too! (No login required) (You will need to copy and paste it) https://ed.ted.com/on/gvKr9ocB
The worksheet contains tasks suitable for all abilities. Enjoy.
About this resource
Info
Created: Jan 13, 2018
Updated: Feb 22, 2018
Get this resource as part of a bundle and save up to 45%