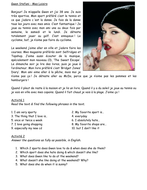 Mes Loisirs - Gwen Stefani Hobbies Text
Text about Gwen Stefani's hobbies with activities
About this resource
Info
Created: Jun 6, 2008
Updated: Aug 19, 2015
This resource is designed for US teachers. View UK version .
Other resources by this author
Worksheets to practice Writing Regular and Reflexive verbs in Present Tense in Spanish.
ahardiment
Millionaire PowerPoint template with sounds. Unlike most of them that have been uploaded, this one looks quite realistic!
ahardiment
certificates to send home to parents as rewards
ahardiment
Popular paid resources
PowerPoint and accompanying workpack designed to encourage pupils to use a variety of complex structures in their spoken and written French. An ext...
maryjane1969
This is a lesson I produced for my Lower Sixth to introduce the subjunctive. There is a worksheet to accompany the presentation with a fairly compr...
maryjane1969
Print out the cards and laminate them. Pupils work in pairs or small groups and race against each other to form the perfect tense with the cards af...
maryjane1969
New resources
Quiz sur Noel : multiple choice exercise on the topic of Christmas
Zoe2007
Powerpoint slides and worksheets introducing and practising language to discuss helping marginalised people in society. There are links to five rel...
lucyday73
Quick printable to cut out, laminate and label: Rooms in a primary school Items in a classroom Raise the profile of French in your school by making...
naomifrench
Updated resources
This is a spelling and vocabulary review game generator. it works with any words, so use it to review your weekly spelling lists in game form. A ve...
Tigerlearn
Presentation with ideas and key questions on the topic of "l'autorité" in the film Au Revoir Les Enfants by Louis Malle.
SilverWotton
A booklet designed to give KS3 students practice in the skills now required for GCSE, or for use with Foundation GCSE students. Accompanies Studio ...
eliad1907