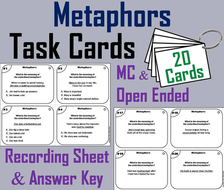 Metaphors Task Cards
These task cards are a great way for students to have fun while practice their skills with interpreting metaphors.

This activity has students reading 20 metaphors which asks them to interpret the meaning of a metaphor used within each sentence. Students are given multiple choice options as well as a version without multiple choice. A recording sheet with an answer key is provided.
Read more