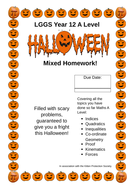 Mixed Maths Homework Year 12 A Level - 1 Halloween
The move to a two year linear course in Maths A Level means they will have to continually build on, review and revise work throughout the course. I am designing some cumulative mixed homeworks for different stages in the year that force students to go over everything they have covered so far. Obviously this matches the order of my schools scheme of work (and we are alternating mechanics and stats each half term for application) so there may be some adapting required. I photocopy them into A5 booklets. Final answers are provided so students hand in their work self assessed with any questions they have written on if they got stuck so it is easy for me to see what they have struggled with.
Read more
Report a problem
Creative Commons "Sharealike"