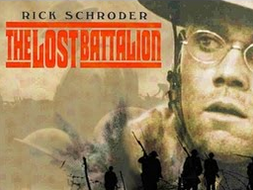 Movies 4 Social Studies - The Lost Battalion - WWI
Do you want to bring a historic period or event to life? Let Hollywood help. The Lost Battalion is rated PG and is a film is a fact-based war drama about an American battalion of over 500 men which gets trapped behind enemy lines in the Argonne Forest in October 1918 France during the closing weeks of World War I. Students will enjoy seeing how the soldiers were outfitted but be shocked by the brutality of trench warfare. They will also become keenly aware of the courage and bravery it took to fight in WWI. As your students get to know the characters, you will have many opportunities to make many connections and/or refer back to their stories.

This lesson includes a movie review, an answer key, and 27 questions that guide your students through the action. You will have to purchase the movie.
Read more