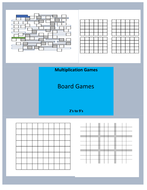 Multiplication Single Digit Board Games
Board Games
(14 different game boards are included, including ones for certain holidays, to provide variety.)

After the cards are shuffled, players take turns drawing one card, answering the problem on the card, and following the instructions on both the card and the game board to reach the finish. The first player to reach the finish is the winner.
Read more