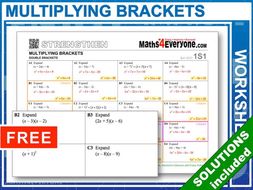 Multiplying Two Brackets (Progressive Worksheets)
Three worksheets with carefully selected questions that allow students to take the First Steps, then Strengthen and Extend their skills in multiplying two binomial expressions such as (x+2)(x–5), gradually moving to (2x–7)(x+3) and eventually to multiplying a binomial with a trinomial (in the Extend sheet). They are also great for GCSE revision - the more able students can save time by focusing on the questions at the bottom-right of the sheet.
--
Solutions are included.
Read more