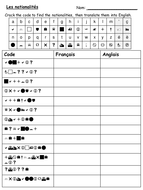 Nationalities code word
Code word handout on nationalities in French.
Read more
This resource is designed for US teachers. View UK version .
Other resources by this author
This resource, aimed at KS3 Spanish students, recaps the near future in the context of new year's resolutions. Introduces 12 new year's resolutions...
shropshire14
A very simple presentation on animals in Spanish for primary. Includes a basic worksheet to label and colour.
shropshire14
Lesson activities and worksheet about Easter vocabulary in French, made for Primary school level/low ability Key Stage 3. The resource includes a p...
shropshire14
Popular paid resources
PowerPoint and accompanying workpack designed to encourage pupils to use a variety of complex structures in their spoken and written French. An ext...
maryjane1969
This is a lesson I produced for my Lower Sixth to introduce the subjunctive. There is a worksheet to accompany the presentation with a fairly compr...
maryjane1969
Print out the cards and laminate them. Pupils work in pairs or small groups and race against each other to form the perfect tense with the cards af...
maryjane1969
New resources
Article and exercises on family topic - the nature of mother-daughter arguments. Practises conjugation/grammar section of AS exam. Pupils must fill...
leptir109
Full explanation of why accents are used in French including activities and a section for pupils to search in a dictionary and find accents they ca...
leptir109
Updated resources
A set of assessment feedback forms for KS3 and 4 that are designed to meet the criteria of each exam skill for the new Edexcel GCSE.
amydunkley1
150 slides of French motivational quotes, idioms and funny pictures for a more engaging and interesting classroom display.
amydunkley1
I selected authentic articles dealing with current affairs/issues in France following the A Level textbook (Edexcel) guidelines. In this booklet yo...
heathcliff62