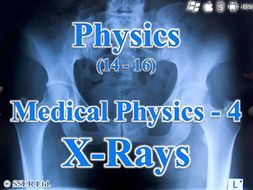 P3.2 Medical Physics 4 (X-Rays)
One of over 50 interactive PowerPoint presentations (Sets 1 - 6) covering the Edexcel GCSE Physics specification. Already used in hundreds of UK and international schools. This presentation looks at the properties of X-rays, their uses and disadvantages. Traditional X-ray machines, Fluoroscopes and CT Scanners are studied and compared - superb graphics are used throughout.

• Utilizes the benefits of the staged display of information.
• Fully editable in PowerPoint (.pptx file supplied).
• Works on all operating systems where MS PowerPoint has been installed, e.g. Windows, Mac OS, iOS and Android (this presentation is flash-free).
• Suitable for a single computer, network, interactive whiteboard or digital projector.
• Our presentations save you hours in the preparation of high quality lessons.
For a Site/VLE licence or for details of other specifications please visit…
http://www.sserltd.co.uk/acatalog/PHYEDEXCEL.html

Currently, the TES store for Premium Resources only allows a PowerPoint preview to consist of one content slide plus the Cover Slide and End Slide. Therefore, we have included a full set of slide images (.jpg files) to allow you to appreciate the full content of this presentation - you do not need to retain these images after download - just keep the .pptx file.
About this resource
Info
Created: Dec 8, 2016
Updated: Feb 22, 2018
By adding a School licence it allows you to share this resource with colleagues at your school. Without it, this resource is licensed for use only by you. Read licence details
Get this resource as part of a bundle and save up to 20%
Categories & Grades