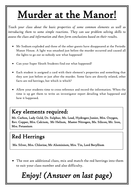 TES PICKS
Periodic Table Murder Mystery! Atoms and Elements
A really fun introduction to some common elements and their properties. Mr. Sodium has exploded and three other guests have gone missing at the Periodic Manor House. Can your students match chemical properties to clues in this super sleuth extravaganza! Variable group size with variable difficulty. Min group size: 13 Max group size: 30
About this resource
Info
Created: Apr 15, 2012
Updated: Nov 13, 2014
Other resources by this author
A really fun introduction to some common elements and their properties. Mr. Sodium has exploded and three other guests have gone missing at the Per...
erhgiez
Dulwich College Junior School Science Scheme A fully comprehensive scheme designed for above national average students. This is in line with the Na...
erhgiez
Full investigation into the effect of surface area on the air resistance for paper and card
erhgiez
Popular paid resources
The book is designed to support new and existing science teachers. It put together a number of old and new ways to inspire students and engage them...
Scuttscience
Science bundle Wow save 71% that's a saving of £15 A selection of some of our fantastic science resources: Back to school-Science Doodles: A select...
TeachElite
Two books, each with 50 engaging and memorable demonstrations/practicals - 100 in total! These are designed to support existing teacher, NQTs, ITT,...
Scuttscience
Updated resources
This bundle includes all of the physical science escape rooms listed below. Important: All these products sell for $60; as a bundle they are 35% of...
ScienceSpot
Contains (a) Chemistry Assessments (1) (b) Biology Assessments (2) © Key stage 3 Biology Cells chapter 1 Science Full bundle (d) Primary science as...
dukulajayasinghe1
6 Resources

10% off

$10.78

$

9.70
These posters are perfect for your classroom display showing the full set of 118 elements including the element symbol, full name, atomic number, m...
ninki1