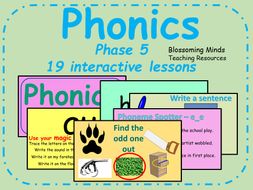 Phonics phase 5 - 19 interactive lessons
**FANTASTIC VALUE** This resource is a giant interactive PowerPoint with interactive lessons for ALL phase 5 phonemes- 19 sounds!

Simply click on the sound and you will be taken to the appropriate lesson. Each lesson takes 15-20 minutes and is split into the following sections:
- Revision of phase 3 and 4 phonemes in a random order
- Introduction to new sound and opportunity to trace the shape of the sound
- Spotting the odd one out
- Reading words
- Phoneme counting
- Phoneme spotting in sentences
- Writing words with sound/filling in missing words
- Writing a sentence
- Revision of tricky words

This resource contains over 1000 slides! It means you can be prepared for4 weeks worth of phonics lessons. Simply open the PowerPoint each day and you are ready to teach!
Each lesson is available individually on my shop for £2 or save 75% by buying in this giant PowerPoint.
By adding a School licence it allows you to share this resource with colleagues at your school. Without it, this resource is licensed for use only by you. Read licence details
Get this resource as part of a bundle and save up to 35%