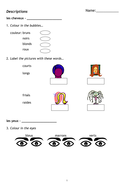 Physical Descriptions in French - Handout
Lesson teaching students to describe physical characteristics of a person.
This resource is designed for US teachers. View UK version .
Categories & Grades
Other resources by this author
This is a colour-coded guide to the four cases in German. For each case there is a character (Georg Genitiv, etc) and a personified explanation of ...
mozartkugel
Review of questions & answers relating to family, pets é descriptions. A pupil lands on a square and must translate the question. If he fails, he m...
mozartkugel
Whole class game on the SmartBoard, reviewing school subjects, days of the week and time. Page one is a blank timetabe, page two has the English "q...
mozartkugel
Popular paid resources
PowerPoint and accompanying workpack designed to encourage pupils to use a variety of complex structures in their spoken and written French. An ext...
maryjane1969
This is a lesson I produced for my Lower Sixth to introduce the subjunctive. There is a worksheet to accompany the presentation with a fairly compr...
maryjane1969
Print out the cards and laminate them. Pupils work in pairs or small groups and race against each other to form the perfect tense with the cards af...
maryjane1969
New resources
This resource file contains teaching materials for the THIRD PART of the topic: 'Quelle vie pour les marginalisés?' : 'Quelles attitudes envers les...
laprofdefrancais
Quiz sur Noel : multiple choice exercise on the topic of Christmas
Zoe2007
Powerpoint slides and worksheets introducing and practising language to discuss helping marginalised people in society. There are links to five rel...
lucyday73
Updated resources
I read through a lot of Matthieu Kassovitz's interviews and sorted out some of his quotes on different topics (from his aims, to his views on the p...
Esthersaurel
I've designed this for the whole school, specifically to celebrate Shakespeare's birthday. There are some video links for students to watch but the...
shakeycsuk
Sentences to print cut up and use for walking transaltion end of unit activity
Bongo90