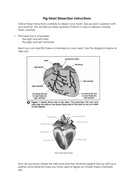 Pig Heart Dissection Instructions (+ included worksheet)
Based on the KS3 Year 8 Human Heart topic, this resource guides students through the dissection of a pig's heart. I have also created a worksheet to recap heart external and internal structure that is included.

I did this lesson about mid-way through our topic on the heart and it really helped students to grasp the theoretical content.
Read more