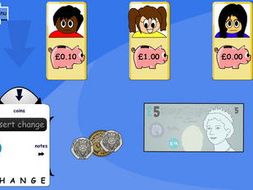 Pocket Money - Equal Shares
This is an interactive resource. A fun TESiboard, quick, plenary-type game to encourage mental agility in handling of quantities of money. This activity is one of a pair of money sharing activities. Notes and coins can be changed in the machine to be shared to the children. This game provides an amount of money that must be shared equally amongst the children, leaving a small random amount remaining. The partner game requires the user to give exact, specificied amounts to each child. Note: you can empty coins back out of the piggy banks, one at a time.

Note: This is a Flash activity and may not work on all devices and browsers. We recommend IE.
Read more