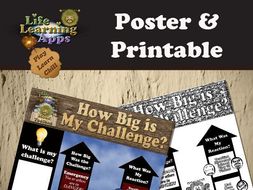 Poster: How Big is Your Challenge?
This resource is available to be printed in full colour and also in black and white. It is a visual reminder that can assist children in learning how to calm and chill out!

Designed in conjunction with the Mood Toolbox: Strategies to Empower Children this poster assists teachers, practitioners and parents in guiding children to understand and regulate their challenging mood changes. This will particularly help a child to reflect on their behaviour.
Read more