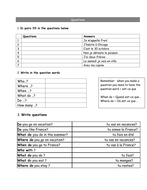 Ppt and Handout on Question words in French
For the starter you need to write the questions on pieces of paper and stick them around the room - in pairs one finds question, memorises it, and says it to partner. For OXO game put class into pairs. They learn the 9 sentences. They throw the dice twice to find out which sentence they need to translate. Their partner judges whether they have translated correctly. If yes, they can write their O or X in the relevant square. If the partner throws the same number and can translate correctly he/she can overwrite the other's.
Read more
This resource is designed for US teachers. View UK version .