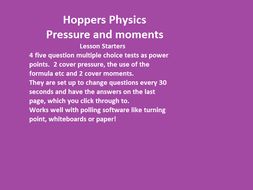 Pressure and moments lesson starters from Hoppers Physics
four power points each containing five multiple choice questions. There cover the basic use of the formula and manipulation there of. Great for reviewing last lesson or as a plenary activity at the end of the lesson. The power points are set to change question every 30 seconds and then you click through to an answer. Can be used with polling software as well as white boards and paper!
About this resource
Info
Created: Feb 22, 2017
Updated: Feb 24, 2017
Get this resource as part of a bundle and save up to 25%
Other resources by this author
With sections covering all the forces in the title which start off easily and get slowly harder this is a short answer test paper which also includ...
Hoppersphysics
Covering the key points for the Common entrance, KS 3 and middle school circuits work with circuit symbols, truth tables current in series and para...
Hoppersphysics
Internet research questions to go with Key stage 3, common entrance and middle school work on Light. This covers the electromagnetic spectrum, lens...
Hoppersphysics
Popular paid resources
**This resource has been recommended by the TES Resource Team** *UPDATED AUGUST 2017* Added a crossword puzzle with answers. This resource pack wil...
sciencecorner
Following the success of our Paper 1 Nandos resource, we've made 1 for GCSE trilogy Physics paper 2! Differentiated questions - easy at the bottom,...
geekanswers
8 slide fill-in presentation / sheets on the 3 topics that make up Physics Paper (for the AQA Combined Science, so no lenses, transformers, etc at ...
jeroenvanos
Updated resources
20% OFF SALE LIMITED TIME ONLY This pack contains tracking sheets for students in KS4 who are on the 2018 AQA GCSE Combined Science: Trilogy pathwa...
ranw123
This pack contains tracking sheets for students in KS4 who are on the 2018 AQA GCSE Separate Science pathways: GCSE Biology, GCSE Chemistry and GCS...
ranw123
A collection of large exam question packs for GCSE Physics Unit 1 and GCSE Physics Unit 2 with Mark Schemes and examiner reports for each of the un...
ranw123