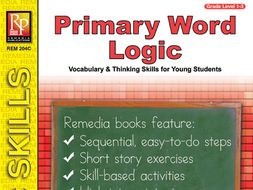 Primary Word Logic: Primary Thinking Skills
Exercise thinking skills and build vocabulary! In each of the 24 lessons in this unit, student must first answer a series of random letter-placement clues. If their "logic" is correct, the letters spell a word. Students are then challenged to write an original sentence using the word.
The vocabulary featured is at an easy level so that the focus is on thinking more than on word knowledge. Creative illustrations and coloring activities add to the fun of learning.

Read more