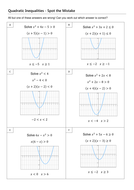 TES PICKS
Quadratic Inequalities - Spot the Mistake
Created for the new GCSE specification but also suitable for AS level and iGCSE, this activity requires students to identify errors in quadratic inequality solutions. It is designed to highlight and tackle common misconceptions.

See resourceaholic.com for more ideas and resources for teaching this topic.
About this resource
Info
Created: May 28, 2015
Updated: Feb 22, 2018
This resource is designed for UK teachers. View US version .
Other resources by this author
Designed for the new GCSE specification, this worksheet allows students to practise sketching circles and finding equations of tangents. For more r...
mrsmorgan1
This is a worksheet on perpendicular lines, with solutions included. It is intended for GCSE but might be useful in C1 too.
mrsmorgan1
A collection of volume and surface area GCSE questions, with answers. Mostly Edexcel.
mrsmorgan1
Popular paid resources
Maths GCSE 9-1 Higher Non-Calculator Questions. This pack includes two 20 question diagnostic tests covering 20 different topics. The tests are aim...
Elsie99
What's in this pack? This pack contains 48 exam style question cards covering the new curriculum for the top grades of the new gcse in algebra. The...
LittleStreams
All my algebra resources in one handy place! £15 when sold separately, but only £12 when bought as a bundle! Please feel free to browse the individ...
stephigittins
New resources
Short activity to show the different ways of writing inequalities(using a number line, writing in words and using inequality symbols). First exampl...
annclewes
This worksheet contains questions on quadratic discriminant which specifically lead to quadratic inequalities. Detailed typed answers are provided ...
joezhou
Updated resources
This carefully selected compilation of exam questions has fully-worked solutions designed for students to go through at home. This can save a lot o...
Maths4Everyone
With this activity, students will solve compound inequalities and color their solutions according to the given directions to reveal a beautiful, co...
charlotte_james615
With this activity, students will match quadratic inequalities with the correct graph. Then they will color the picture using their answer and the ...
charlotte_james615