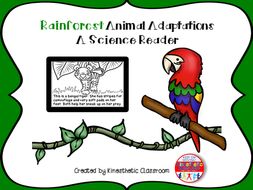 Rainforest Animal Adaptations - A Science Reader
A little coloring book that teaches about adaptations in rainforest animals. Animals included are a gorilla, an orangutan, an anaconda, a parrot, a toucan, a blue morpho butterfly, a tree frog, and a bengal tiger.

The last page is interactive so the kids can write and illustrate their own page.
Read more