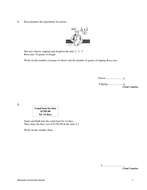 Ratio review Test
This resource is designed for US teachers. View UK version .
Other resources by this author
Simple worksheet using twitter celebrities to engage pupils for rounding whole numbers up to 3 significant figures. Up to date as of Sep 2015.
mrobertson1987
When teaching Trig. I wanted to do individual lessons on Sin, Cos and Tan before doing mixed questions. After not being able to find any suitable r...
mrobertson1987
30 questions on angels in parallel lines\n1-10 easy corresponding\n11-20 medium, supplementary\n21-30 hard, mixture involving triangles also\ncheer...
mrobertson1987
Popular paid resources
A self-contained game to be played in pairs. Use to revise reading coordinates on a grid. Best played once coordinates have already been introduced...
Miss-Becky
Recommended by TES Panel. An investigation which allows the learners to find the rules for transformations plus some example questions. PLEASE REVI...
kmbheck
Recommended by TES. There are 4 sets of questions (Number, Algebra, Shape, Data) which are mainly A and A* (with some lower grade questions from to...
kmbheck
Updated resources
Exam-type questions that gradually increase in difficulty. This sheet covers Composite Functions. Click 👉 www.tes.com/.../revision… for similar-st...
Maths4Everyone
Topic-focused SATs questions and fully-worked solutions for the ALGEBRA strand. Click 👉 tes.com/…/bundles… for booklet bundles of the other strand...
Maths4Everyone
Three worksheets with carefully selected questions that allow students to take the First Steps, then Strengthen and Extend their skills in multiply...
Maths4Everyone