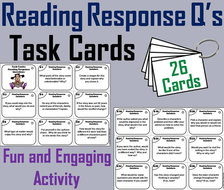 Reading Response Questions Task Cards
These task cards are a great way for students to have fun while analyzing and discussing any story they have read.

There are 26 reading response questions that allow students to think critically about the story they are reading in class. The reading response questions are great to use for close reading, reading journals, guided reading groups, literature circles, partner discussions, literacy centers, and others.
Read more