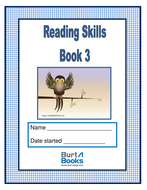 Reading skills development
This is a set of themed comprehension exercises.
About this resource
Info
Created: Oct 10, 2011
Updated: Aug 19, 2015
This resource is designed for US teachers. View UK version .
Categories & Grades
Other resources by this author
These worksheets are based on a list found in the Dfes guide for spellings that should be known in KS3. This is just a start. Please give me feedba...
coreenburt
This set of worksheets is a section of Module 5 of the Burt Reading scheme. There are at present over 700 phonic worksheets in this scheme. They ha...
coreenburt
Fact sheet followed by true / false statements. This is part of a full booklet which will soon be available in its entirety (18 pages) on the new T...
coreenburt
Popular paid resources
10 fully resourced lessons to prepare students for the AQA English Language Paper 2, Section A exam: 'Writer's Viewpoints and Perspectives'. This r...
RojoResources
Children loved making pizzas at our Italian pizza class. Resources have been exported from an Activ-primary flip-chart. (Which also includes Italia...
jreadshaw
These 'Library Challenge' cards were made for my class library, but they could be used in a school library as well. The idea was just to get the ch...
sh2810
New resources
Pupils choose one of 9 questions in a fun and easy to tailor to a topic, interactive PowerPoint presentation. Quick, easy, fun and effective way to...
lordturner
Sorting task designed for students with autism / SEN This is designed to be used in different ways depending on ability level: * cut and laminate c...
jlp76
This resource is to help students succeed in the text comparison component of the Edexcel IGCSE English B exam, but could work for English A or oth...
gudrunbjorg
Updated resources
We used this as a newspaper report example from the text 'The True Story Of The Three Little Pigs'. We looked at formal language, quotes, sentence ...
Gezzalang
This 16-question multiple-choice reading test/quiz on "La Leña Buena" by John Phillip Santos has questions from different levels of Bloom's Taxonom...
learningisawesomewithmrsalinas
Includes practice papers and resources for AQA GCSE English Language Papers 1 and 2
misswright2