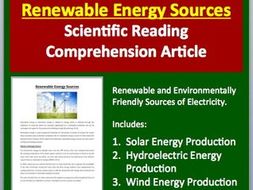 Renewable Energy Production - Clean Electricity - Science Reading Article
Product Description
Renewable Energy Production: Clean Electricity - A Science Reading Article - Disciplinary Literacy. This resource contains three complete readings in addition to an introduction to renewable energy. This bundling saves you 25%. The renewable sources include Solar, Hydroelectric, and Wind Energy Production.

This resource is suitable for high school students as well as strong middle-school students. Tackle literacy and science by having your students read and answer questions from a scientific article. Questions include knowledge (direct from the paper), thinking, connecting and open-ended varieties.

No Prep, no formatting, no issues. Simply download, print (or upload to your class site) and you're all set.

----------------------------------------------------------------------------------------------

**This resource is fully editable for your convenience.**

This resource covers the following topics:
- Renewable energy sources
- Solar Energy Production
- Hydroelectric Energy Production
- Wind Energy Production

----------------------------------------------------------------------------------------------

The Problem You Face - Not having the time to properly teach scientific literacy (disciplinary literacy) or improve your students reading comprehension and analysis skills.

The Solution
This fully editable, NO PREP reading comprehension article is composed of relevant, applicable and engaging reading activities which can be used to:
• introduce your topic
• improve your students reading comprehension and scientific literacy skills
• improve your students analyse skills
• provide an extension activity to students who move at a faster pace
• provide extra credit to students in need
• measure your students literacy skills

Furthermore, this resource works very well as an emergency substitute plan as it will keep your students on task and focused while you are away.

This resource will take your students between 50-75 minutes to complete and includes some open-ended questions. An answer key is also included for your reference.
Read more