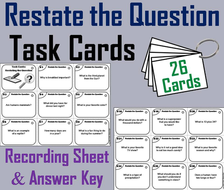 Restating the Question Task Cards
These task cards are a great way for students to have fun while answering a question using a complete sentence.

This activity has students reading 26 questions to each other and then asked to restate the question to answer in a complete sentence. A recording sheet and answer key with sample answers is included.
Read more