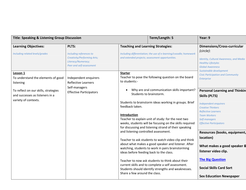 Speaking and Listening Guide
Guide to a series of Speaking and Listening classes directed at 9th-10th grade.
This resource is designed for US teachers. View UK version .
Categories & Grades
Other resources by this author
People and Politics Revision for the AQA Government and Politics As Level.
he4therlouise
20 minute lesson judged Outstanding against the new 2012 Ofsted criteria. PEA Lesson Using & analysing evidence
he4therlouise
Popular paid resources
These 'Library Challenge' cards were made for my class library, but they could be used in a school library as well. The idea was just to get the ch...
sh2810
A Variety of Literacy Tasks based on a Pirate Theme. Word mat provides useful words and phrases to support writing tasks. Pirate Character Descript...
Alice K
Spring /Easter Poetry Learning Intention : to compose Spring Poems/ Easter Poems PowerPoint presentation which provides a stimulus for a variety of...
Alice K
New resources
This engaging and informative lesson enables students to make detailed and precise interpretations of the character of Abel Magwitch in Great Expec...
TandLGuru
70 exciting Assessment for Learning activities - make each lesson fun and varied with over 100 different ideas for assessment activities and ways t...
lordturner
This resource is suitable for an entire lesson to improve speaking and listening skills as well as opportunities for working with others. It's idea...
meganrules83
Updated resources
A PowerPoint that I made for my lower ability Year 10 GCSE group. There is a matching activity within the PowerPoint where students use the picture...
tomgav
Two more dice-based personification generator activities - children use these to create stunning examples of personification about mountains or cav...
extra golden-time
Tale as Old as Time - Beauty and The Beast Dance lyrics mp3 song comprehension sheet Movie: Beauty and the Beast Released: 2017 Nominations: Radio ...
tacss