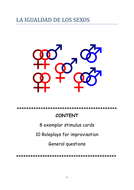 Speaking cards, questions and role-plays La igualdad de Sexos (AQA)
This is the third booklet of its kind that I have produced for the preparation of the AQA A Level Spanish course.

The booklet consists of 8 stimulus cards to be used in class or to take home for preparation (with references to further reading), 8 situations for improvisation and a collection of general questions. The general questions marked as (*) require the student to have a cultural knowledge.

I hope your students find the resource useful and it cuts down your work! I have priced it at £2 to make it as accessible as possible whilst gaining some financial recognition for my work.

You will find more resources for Units 1, 3 and 4 in this site.

I welcome all comments at this site or via email to:bgp@stbrn.ac.uk.
Read more